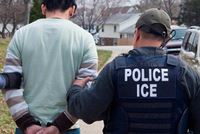 You just received the devastating news that your loved one was detained. Once the initial shock subsides and your mind shifts to thinking of what you can do to help, it is often difficult figuring out where to begin during this emotional time.
Miami immigration lawyer Antonio Revilla understands how distressing this process can be for the friends and family members of a detained individual and wants to ensure that you have the knowledge and guidance required for proceeding to the next step.
As time is of the essence in these matters, please take a moment to read through the following frequently asked questions that Mr. Revilla has answered in an effort to help people make informed decisions when someone they know has been detained. As always, if you require additional information or clarification, please feel free to contact Revilla Law Firm.
Detained: How you can help
How do I get in touch with someone who has been detained?
Antonio Revilla: Your loved one may or may not be able to contact you within 24 hours since this is typically how long processing takes once somebody is detained.
What information should I get when I speak with them?
Antonio Revilla: When you do have contact with your loved one, find out where they are being held and make sure that you obtain their alien number, which begins with the letter A.
Once you have established where your loved one is being held and you have their alien number, contact the detention facility immediately and ask whether a bond amount has been set for them. You can post bond if it is a feasible option. Otherwise, a bond motion may be filed so that an immigration judge can set a bond or a more reasonable bond. An attorney will be able to schedule the earliest possible bond hearing before an immigration judge. The sooner a bond motion is filed, the sooner a bond hearing will be held. At the bond hearing, a judge will determine what bond amount to set in order to effectuate a person's release.
What if my loved one isn't eligible for bond?
Antonio Revilla: Many people are eligible for bond; however, those who are not may still apply for relief from removal. Additionally, a request for parole can be made to the Office of Enforcement and Removal Oeprations. As a result, you should retain an attorney as soon as possible.

Are bond hearings held on the weekend?
Antonio Revilla: Bond hearings are not held on Saturday or Sunday. Typically, once a bond motion is filed on behalf of your loved one, a bond hearing will be heard before a judge between 2-7 days, sometimes up to two weeks, depending on the facility.
What can I do if my loved one is detained over the weekend?
Antonio Revilla: If your loved one is detained over the weekend, unfortunately there is little that can be done because the court is not open and no contact can be made with the deportation officer assigned to your loved one's case. However, if you retain a lawyer over the weekend, a bond motion can be immediately prepared and filed on Monday.
Is it true that my loved one can be moved to another detention facility?
Antonio Revilla: Generally, when the Office of Enforcement and Removal Operations knows that a local attorney is retained, they typically will not transfer your loved one to an out-of-state facility.
Please visit our website www.immigrationmiami.com for more information on deportation defense or any other immigration matter.