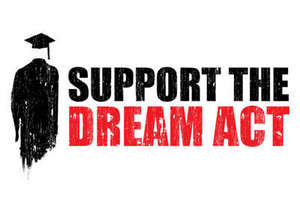 Today the Defense Authorization Bill is going to the senate floor to vote on an amendment to this bill in the hope of passing the DREAM Act. If passed, the DREAM Act will help approximately two million people that, through no fault of their own, entered the United States before the age of 16 and remained in this country. The act would give students and military hopefuls who are in the country illegally a pathway to U.S. citizenship.
There seems to be a lot of senators who are in favor of the DREAM Act, yet the vote is going to be close. As a result, more people need to voice their support to their senators, encouraging them to vote for this amendment.
If you want to get involved and show your support for this amendment, please take a moment to contact Congress today by clicking the below link.
The passage of the DREAM Act will be an example of American values in action.
The DREAM Act is good for America. It will help the economy by increasing our global competiveness through the education of more of our youth, as applicants will be required to have completed at least two years of college education. It will increase the ranks of the military because one of the requirements is going to be that the applicant serve at least two years in the military.
Help us support the DREAM. Please pass this information on to anyone who believes in enriching the culture, economy and military of our country.