The easiest prediction to make for 2018 is that Donald Trump will not visit the Statue of Liberty on the Fourth of July and extol the virtues of America's great tradition as a nation of immigrants. But what should we expect on immigration in 2018?
Low Unemployment But More Efforts to Restrict the U.S. Labor Supply: The premise of the "Buy American and Hire American" executive order used to justify new immigration restrictions is U.S. workers can't find jobs because of immigrants and temporary visa holders. The premise is extraordinarily weak. U.S. immigration levels haven't changed since the 1990 Act and the U.S. unemployment rate has continued to plummet, approaching a 50-year low.
Goldman Sachs predicts the unemployment rate will fall to 3.5% by the end of 2019. (It was over 9% in 2011.) The problem now is not enough workers. "Employers nationwide are grappling with a problem that threatens to stall economic growth: vacancies — and lots of them," reports the Washington Post. "In Colorado, where the unemployment rate sits at an especially tight 2.8 percent, analysts are projecting job creation to slow next year, because companies can't find enough employees to keep growing." Economists predict Colorado's unemployment rate to fall to 1.8 percent.
Still, we should expect the attacks on immigrants to continue. Trump adviser and Breitbart executive Steve Bannon gave away the game in a November 2015 radio interview with Donald Trump when he argued that too many "CEOs in Silicon Valley are from South Asia or from Asia." In other words, it doesn't matter what kind of immigrant you are. If you weren't born here, then the Trump administration likely has (or will have) a policy to keep you out or compel you to leave.
Politicization of Terrorist Incidents: While conservatives have criticized Democrats for politicizing mass shootings, Donald Trump has politicized terrorist incidents to argue for restrictive immigration policies. In a December shooting incident in Pennsylvania, the administration labeled it a terrorist incident even as facts were being determined – and a Department of Homeland Security (DHS) spokesperson said the shooter was admitted on a "family-based immigrant visa." The DHS spokesman went on to attack "chain migration," a contrived term to describe when U.S. citizens sponsor family members.
When an immigrant soldier in New York died in December after saving four people from a burning building and heroically trying to save a fifth, the Department of Homeland Security did not rush out a statement telling the world whether he came to America on a "family-based immigrant visa." Expect the administration and the president to remain silent on anything positive immigrants do while attempting to capitalize politically on anything negative.
There is a good chance in 2018 the U.S. Supreme Courtwill rule on the Trump administration's latest version of its travel ban, with the court outlining (or not) limits on executive power in immigration policy.
A Deal for Dreamers?: Back in September 2017, the New York Times reported, "Democratic leaders . . . declared that they had a deal with President Trump to quickly extend protections for young undocumented immigrants and to finalize a border security package that does not include the president's proposed wall." Following an orchestrated effort from both inside and outside the administration, Donald Trump has flipped his position and argued Congress must enact wholesale changes to the legal immigration system and build a border wall or he will deport approximately 800,000 young people who came to America as minors.
President Obama started DACA (Deferred Action for Childhood Arrivals) but the Trump administration ended it. Protection from deportation has already stopped for some DACA recipients and will cease for many more in the coming months, with March 2018viewed by lawmakers as a deadline for a legislative deal. Between spending bills, border measures, interior enforcement and efforts to cut legal immigration by 50%, the question is whether too many balls are in the air to reach an agreement. Congressional Republicans care more about protecting Dreamers (named after the Dream Act) than administration officials, so to the extent negotiations are primarily among members of Congress the prospects for a deal improve.
Continued Assault on High-Skilled Immigration: The idea that the Trump administration favors "merit-based" immigration has proven to be a myth, as evidenced by the most anti-high-skill immigration regulatory agenda in modern history. The Department of Homeland Security's agency rule list for 2018 includes rescinding both the International Entrepreneur Ruleand work authorization for the "H-4 Dependent Spouses" of H-1B visa holders. (See here why denying H-1B spouses the right to work is a bad idea.)
The Trump administration also plans to enact a series of regulatory measures to restrict the ability of high-skilled foreign nationals to work in America. First, it plans to "revise the definition of specialty occupation" for H-1B visa holders. (The administration recently restricted who can qualify as an economist on a TN visa.) The H-1B changes, which could include wage changes, according to DHS, are "to increase focus on obtaining the best and the brightest foreign nationals via the H-1B program." This means the federal government will decide whether an individual would be a valuable employee, rather the company that would actually employ the person.
Second, DHS plans to change the H-1B lottery used to award H-1Bs when the category is oversubscribed, which happens every year due to a combination of the low annual limit (0.05% of the U.S. labor force) and the strong demand for technical skills in the U.S. economy. Skewing the lottery toward those with the highest salaries would likely disadvantage international students, who usually cannot demand large salaries right out of school.
Third, DHS will "revise the definition of employment and employer-employee relationship to better protect U.S. workers and wages," which could mean additional restrictions aimed at information technology companies.
Fourth, the clearest evidence that skill or education level is not relevant in the eyes of the current administration is the plan to restrict the ability to stay in the U.S. of even individuals with the highest levels of education and the most sought-after skills on the planet. "Immigration and Customs Enforcement will issue a proposed rule that comprehensively reforms the Optional Practical Training (OPT) program for foreign students," according to the law firm Berry Appleman & Leiden. "The Trump administration has already indicated that it will limit the work opportunities available to foreign students and is likely to rescind Obama's STEM-OPT Extension rule that expanded the extensions of OPT for foreign nationals holding U.S. degrees in STEM fields from 17 months to 24 months." (See here and here for more background.)
Finally, as if those measures were not sufficient to push high-skilled people away from the U.S., news emerged from McClatchy that the administration is considering rescinding measures that allow individuals waiting years for employment-based green cards to extend their H-1B status beyond 6 years, which has been part of U.S. law since 2000. "The idea is to create a sort of 'self- deportation' of hundreds of thousands of Indian tech workers in the United States to open up those jobs for Americans," according to a "U.S. source briefed by Homeland Security officials."
Of course, it is economic ignorance of the highest order to assume that removing highly skilled people from their long-tenured jobs will "open up those jobs for Americans," rather than push more work outside of the U.S., diminish the supply of human capital in America and reduce the demand for labor in the United States. Such a policy action would mistreat human beings and their families who have waited years for permanent residence in America.
Proposals can change through the process, must go through rule making and could be subject to litigation. Timing is not certain, though the H-4 and International Entrepreneur Rule appear ready for action in the first part of 2018. One should also pay attention to the arguments used in any proposed rules, since sweeping assertions about the executive branch lacking the authority to issue work authorization would inspire a legal challenge.
Efforts to Restrict Family Immigration: In December 2017, the Associated Press reported, "The White House is embarking on a major campaign to turn public opinion against the nation's largely family-based immigration system ahead of an all-out push next year." Some have observed it is a little odd for an administration that has given high-level White House jobs to the president's daughter and son-in-law to decry family ties. But this is really all about numbers and a desire to allow fewer foreign-born people into the country.
If successful, and the administration would need support from Congress, eliminating most family immigration (and Diversity visas) would reduce legal immigration by 50 percent, lower the nation's projected level of economic growth and diminish business startups. Family immigrants start many of America's small businesses. "Immigrants account for more than 90 percent of the growth in self-employment since 2000," according to economist Magnus Lofstrom. It would also deny the opportunity to immigrate to approximately 4 million family-sponsored immigrants who have waited lawfully outside the country.
The administration may also restrict family immigration through a regulation that defines "public charge" for immigration purposes. (For more information on the legal immigration system see this National Foundation for American Policy report.)
Deportations and Workplace Raids: "In FY17, CBP recorded the lowest level of illegal cross-border migration on record, as measured by apprehensions along the border and inadmissible encounters at U.S. ports of entry," according to a December 2017 report from U.S. Customs and Border Protection (CBP). Moreover, as discussed here, demographic changes in Latin America mean the U.S. will likely never again experience the level of illegal entry it saw 10 to 20 years ago. However, these facts will not influence administration policies.
The Trump administration is likely to seek to increase deportations through restrictive policies toward unaccompanied minors and parents and by pressuring immigration judges to complete more cases. In December 2017, the New York Times reported, "The Trump administration is considering a plan to separate parents from their children when families are caught entering the country illegally . . . immigrant groups have denounced it as draconian and inhumane." During the first half of 2018, the administration will decide whether to continue Temporary Protected Status (TPS) for nationals of Honduras, El Salvador and other countries.
While Immigration and Customs Enforcement (ICE) has hardly focused its attention only on hardened criminals, 2018 will likely seen a turn toward immigration raids on businesses. Such raids have always been controversial. According to the Commercial Appeal, based in Memphis, "The federal government plans to increase job site immigration enforcement actions across Tennessee in 2018, said Robert Hammer, a high-ranking enforcement official." A better way to combat illegal immigration is to provide employers with more ways to hire workers legally through temporary visas, including for year-round jobs, which is difficult or impossible under current U.S. immigration law.
Refugee Admissions – How Low Can They Go?: In October 2017, the New Yorker reported how key Trump immigration policy adviser Stephen Miller "got the U.S. to accept fewer refugees." Miller bulled his way through the administration, essentially showing how intensity can carry the day. At one point he sought to lower the level to 15,000 a year, from a recent level of 110,000. The announced administration level was 45,000 for FY 2018 but other bureaucratic obstaclesplaced on individuals who are already the most-vetted immigrants mean even that low number may not enter this fiscal year.
Miller can be proud of his efforts. The Washington Postreported children are dying of cancer in refugee camps who could have received treatment in the United States. Under the law, Congress is supposed to play a prominent role in refugee policy but so far it has been missing in action. Next year's refugee admission level will likely be the same or lower.
Don't expect help on refugees from White House Chief of Staff John Kelly. According to the New York Times,"This past summer, the Trump administration debated lowering the annual cap on refugees admitted to the United States . . . John F. Kelly offered his opinion. If it were up to him, he said, the number would be between zero and one."
Employment-based, family-based, refugee or asylum seeker, the Trump administration plans to make it more difficult for you to enter or remain in the United States. In sum, the assault on all forms of immigration to the U.S. will continue in 2018. Expect nobody to be spared.
Read more: https://www.forbes.com/sites/stuartanderson/2018/01/02/heres-what-to-expect-on-immigration-in-2018/4/#571d777612ca
REVILLA LAW FIRM, P.A.
Miami immigration and deportation defense law firm
With the beginning of this new year, we are closely monitoring potential changes in immigration policies, particularly DACA, that could impact hundreds of thousands of dreamers currently residing in the United States. As always, we will be posting any updates to immigration policies as they occur. If you are concerned about your immigration status or have questions about your case or that of a family member, it's important seek the guidance of an experienced immigration attorney.
Antonio G. Revilla III is a Former U.S. Immigration Prosecutor and a Miami immigration lawyer with over 25 years of legal experience. Mr. Revilla will thoroughly review and analyze your immigration case and advise what, if any, relief is available to you. All consultations are confidential.
Contact our office today to schedule a free in-office consultation with attorney Revilla. We also offer telephone consultations for a nominal fee.
Call (305) 858-2323 or toll free (877) 854-2323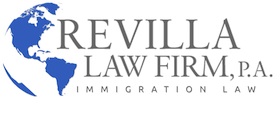 Our Miami immigration lawyers have helped thousands of people avoid deportation. We will fight to keep you and your family members in the United States.