WASHINGTON — The Homeland Security Department is planning nationwide raids aimed at deporting adults and children who have already been ordered removed by an immigration judge.
The Washington Post reported in Thursday's editions that the operation from Immigration and Customs Enforcement would begin as soon as next month and would likely affect hundreds of immigrants who fled violence in Central America since the start of 2014.
ICE spokeswoman Gillian Christensen would not comment on the details of the Post report. In a statement Thursday, Christensen said that as part of civil enforcement priorities announced by DHS Secretary Jeh Johnson in November 2014, the agency will focus on individuals "who pose a threat to national security, public safety and border security." That group includes people who have been caught trying to enter the U.S. illegally and those who have been ordered removed from the country since January 2014.
"As Secretary Johnson has consistently said, our border is not open to illegal immigration, and if individuals come here illegally, do not qualify for asylum or other relief, and have final orders of removal, they will be sent back consistent with our laws and our values," she said.
The Obama administration disclosed this week that in the 2015 budget year, the U.S. deported the fewest immigrants since 2006. ICE said that of the 235,413 people removed or returned during that time period, 98 percent met one or more of ICE's enforcement priorities.
http://www.pbs.org/newshour/rundown/report-u-s-planning-immigration-raids-in-early-january/
REVILLA LAW FIRM, P.A.
Miami immigration and deportation defense lawyers
If you or a loved one is facing deportation, contact the immigration attorneys at Revilla Law Firm, P.A. Antonio G. Revilla III is a Former U.S. Immigration Prosecutor who has helped thousands of immigrants remain in the United States through his diverse experience and extensive legal background. Mr. Revilla understands the complex immigration process and how to navigate even the most difficult issues effectively to help you achieve the best outcome in your case.
Contact Revilla Law Firm today to schedule a free in-office consultation with Mr. Revilla. Our Miami immigration law firm is located in the Brickell / Roads section. We also offer phone consultations for a small fee.
Call today: (305) 858-2323 or toll free (877) 854-2323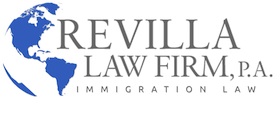 Our address:
2250 S.W. 3rd Avenue
Suite 501
Miami, FL 33129
Contact us via email: info@immigrationmiami.com